1968 NYY Team Signed Baseball, Mickey Mantle Last Year! 21 Signatures! JSA LOA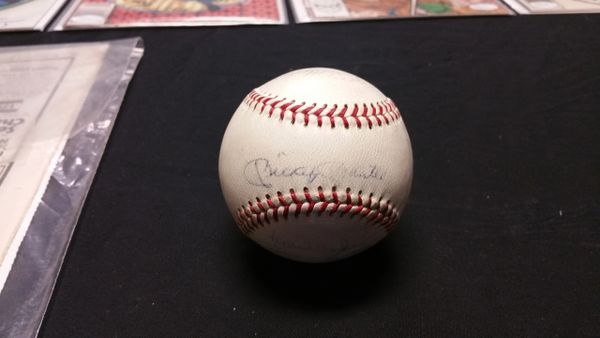 This is a 1968 "REACH" baseball signed by 21 Members of the New York Yankees. It is an Official American League ball (Joseph Cronin President) and is in excellent shape. The signatures are all very legible but have begun to fade slightly. The Mantle Autograph is clean overall with a slight smudge on the 2nd M in Mantle!
The Sweet spot is signed by HOF Member Mickey Mantle
North Panel: Mel Stottlemeyer, Jake Gibbs, Tom Tresh, Steve Barber, Dick Howser, Whitey Ford
South Panel: Horace Clarke, Charley Smith, Fred Talbot, Joe Pepitone, Roy White, one other
East Panel: unk, unk, Andy Kosco, Ruben Amaro
West Panel: Steve Hamilton, Bill Robinson, Gene Michael, Bobby Cox
This is a very nice piece of NYY history since it was Mickey Mantle's last year with the team. This is an "Authentic" REACH brand baseball (collectible on its own) very desirable due to its verifiable age and has Joe Cronin as the AL President (No Balls from China, Taipei, Korea, Haiti...etc) and every single autograph is verified authentic. No Clubhouse sigs and Mantle is on the sweet spot!