Action Comics #1 Fifty Year Anniversary Edition Reprint 1988 (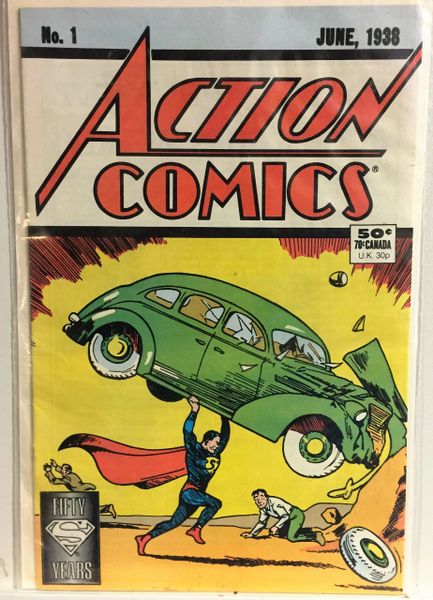 • Fifty Anniversary Edition - Reprints Superman's first appearance and origin story from Action Comics (vol. 1) #1 by Jerry Siegel and Joe Shuster.
• NOTE: The other stories from the original Action Comics (vol. 1) #1 are not reprinted in this book.
• Final three interior pages are a cover gallery of Action Comics issues #13 (1st Anniv.), 25 (2nd Anniv.), 100, 300, 364 (30th Anniv.), 400, 484 (40th Anniv.), 500 and 600.
8.0 VERY FINE (VF): An excellent copy with outstanding eye appeal. Sharp, bright and clean with supple pages. A comic book is this grade has the appearance of having been carefully handled. A limited accumulation of minor bindery/printing defects is allowed. Cover is relatively flat with minimal surface wear beginning to show, possibly including some minute wear at corners. Inks are generally bright with moderate to high reflectivity. An unnoticeable 1/4" crease is acceptable if color is not broken. Stamped or inked arrival dates may be present. No obvious soiling, staining or other discoloration except for minor foxing. Spine is almost flat with no roll. Possible minor color break is allowed. Staples may show some discoloration. Very slight staple tears and a few almost very minor to minor stress lines may be present. No rust migration. In rare cases, a comic was not stapled at the bindery and therefore has a missing staple; this is not considered a defect. Any staple can be replaced on books up to Fine, but only vintage staples can be used on books from Very Fine to Near Mint. Mint books must have original staples. Paper is (no worse than) tan to cream and supple. No hint of acidity in the odor of the newsprint. Centerfold is mostly secure. Minor interior tears at the margin may be present.